---
---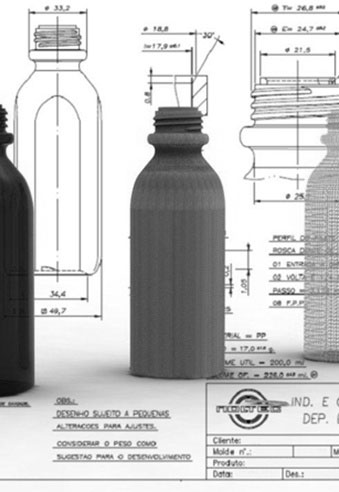 Development &

Technology
Personalized service and tailor-made for each project.
Viability study and initial technical study of needs and expectations of the client - applied know-how in drawings, technical specifications, materials, processes, machines, etc.
Multidisciplinary committies of R&D and innovation and national and international partnerships - consultants, technicians, research institutes, associations, agencies, masters, etc.
State of the art softwares, simulators, advanced equipments and systems of prototyping.
Funtional division into specific business units:
Injection
Injection Blow
Injection Stretch Blow
Blow
Spare parts
---
---
---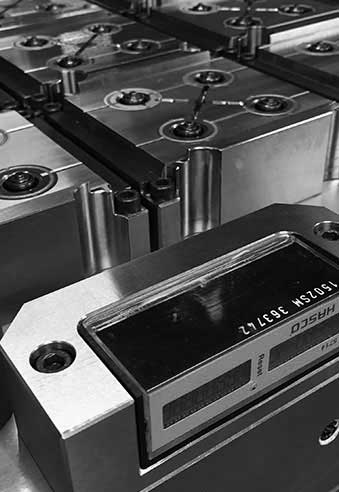 Engineering
Tailor-made projects and molds in a technical and economic sphere.
Applied engineering in conception and development of molds, their components and peripheral devices:
material analysis
applying the best surface coatings
standardized elements
state of the art hot runner systems
rheology studies / refrigeration systems
interchangeable modular concept
studies aimed at cycle time reduction and performance guaranty
defining and optimizing package weight
3D software for project and mold development
machining programming (CAM)
manufacturing of prototypes, offsets and pilot molds
Highly qualified technical team, made up of engineers and national and international partners – consultants, technicians, research institutions, associations, etc.
Latest software, simulators and monitoring systems – reliability, precision and repeatability
Functional division into specific business units:
Injection
Injection Blow / Injection Stretch Blow
Blow
Spare parts
---
---
---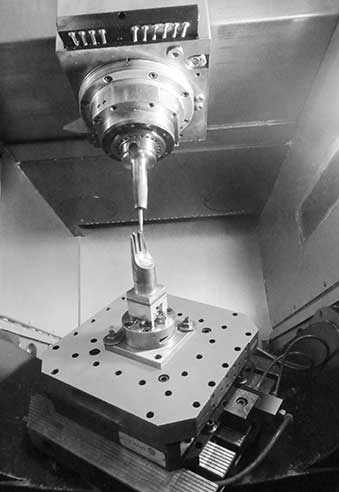 Manufacture
Modern industrial park with high performance equipment and technology:
CNC High Speed machining centers with pallets (3, 4 and 5 axis)
CNC electro-erosion machines (penetration and wire) equiped with magazines and electrode changers
Multi-task CNC lathe
Process integration systems Erowa / 3R
Precision machining
CNC deep drilling machines
Rapid prototyping
High precision tridimensional measuring equipment
Quality control and tests laboratories
National and international suppliers qualified and certified by Moltec Quality System.
Systemic view of all the productive process – assertiveness and repeatability.
Quality management assured by productive process control and continued through the analysis of risk applied in each development phase of the product.
Specific mold assembly technological units:
Injection
Injection Blow / Injection Stretch Blow
Blow
---
---
---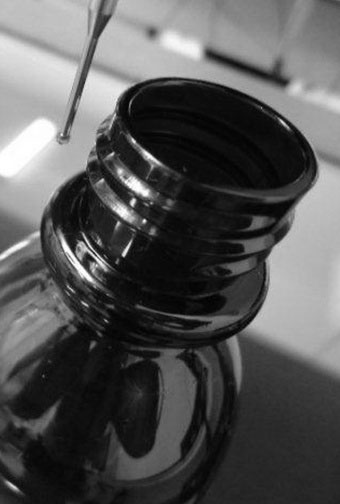 Validation
Tests center with high technology machines for tryouts and FATs (Factory Acceptance Tests) and able to reproduce the future use and needs of the product with precision and reliability.
Package production capacity starting from prototypes, offsets, pilot molds or definite molds.
Reserved area for installation and technical acceptance of Moltec molds conditioned in clients' machines.
Validation of molds and packages according to specification standards and clients' technical requirements or Moltec standards of approval and quality, through sampling and critical analysis.
Production of pilot lots.
---
---
---
After sales and services
Technical assistance and training services.
Full support in replacement parts and upgrades.
Moltec original parts – reliability, performance guarantee and quality.
Mold installation, commissioning and process optimization.
Technical documentation available of all the molds, their componentes and peripheral devices.
Extensively presence – Brazil and Latin America.
---